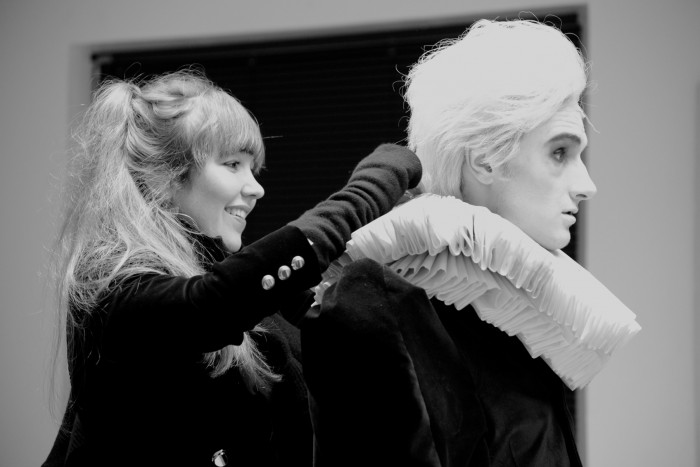 Sarah Mittenbuehler, born 1988 in Freiburg, Germany, studied Integrated Design focussing on Fashion and Costume Design at the University of the Arts Bremen.
In addition to her own fashion collections, she designed the costumes for opera poductions of the University of the Arts Bremen. Aside from her studies, she also worked as a costume design assistant at the shakespeare company bremen 2014 and the Schaubühne Berlin in 2010. As a scholarship holder of the Bremer Studien – Fonds e.V., she was a Design Assistant at the high end fashion label Georgia Hardinge in London in 2011/2012. After her studies Sarah Mittenbühler worked for three years as Costume and Stage Design Assistent at the Theater Freiburg. In 2015 she was part of the Juste-au-Corps Costume competition at the Theater Luzern.
Since 2017 Sarah Mittenbuehler is working as a freelance Costume and Stage Designer. She designed the costumes for operas and plays at the Theater Freiburg, the Oper Köln, the Oper Leipzig, the Staatstheater Mainz, the Royal Danish Opera in Copenhagen, the Theater Osnabrück, The German Nationaltheater Weimar, the Theater Münster and for many others. She worked with directors like Christian von Götz, Gregor Horres, Gary Joplin and Emma Jordan, Graham Smith, Miriam Götz, Bea von Malchus, Katrin Maiwald, Clara Kalus, Sam Brown and Jana Vetten.
Sarah Mittenbuehler's unique way of working with colours, haptics, contours and shapes allows her to invent and develop characters, that tell their own stories.